Katalog českých a slovenských Arma výtvorů
Zeus
IvosH_cz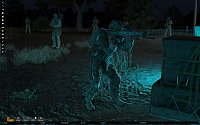 You are in the enemy territory. CSAT is preparing deployment of the seismic generator weapon. Your mission is to find location of seismic generators and destroy them.
Features:
Main mission
Side missions
Zeus avalible for squad leaders
Arsenal
ZBE caching script for performance
Autosave
Ability switch to the Squad leader by radio
Voice acting
I am looking forward to your feedback. Enjoy!