Katalog českých a slovenských Arma výtvorů
Deathstruck
Deathstruck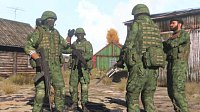 Concerning compatibility with Zeus and other mods etc.:
Zeus, ASDG and ALiVE compatibility is coming. It's just going a bit slow because both of us have no experience with those mods or config compatibility. If anyone wants to lend a hand, it will be much quicker. :)
Please give us Feedback or report any bugs either here or on the BIS and Armaholic forums!
https://forums.bistudio.com/…rmed-forces/
http://www.armaholic.com/forums.php?…
1. DESCRIPTION
This mod adds a fictional "future" version of the Russian Armed Forces to ArmA 3. It can be used to complement the other 2035 factions in the game. Featured are unique uniforms, vests and gear (with their own models and textures) and included is the regular army, recon, paratroopers, sniper teams etc. in either Digital Flora or Berezhka camouflage.
Also, a lot of vanilla ArmA3 assets are utilized, especially vehicles which are retextured with the modern "Nakidka" camo.
Another thing included are the AK12 weapons and fictional "12" variants of others (using Vilas' AK12 model as a basis). Marskman DLC features are compatible.
We plan on expanding the roster, gear and armament with further versions. Same goes for some of the ArmA3 assets/placeholders (CSAT RPG-42 etc.) that will be replaced in the future.
2. REQUIREMENTS
3. INSTALLATI­ON/UNINSTALLA­TION
Extract the folder @Min_RF into your ArmA3 game directory and enable the mod in the launcher. Also put the Mindas.bikey into the core Keys folder.
For Steam Workshop, basically just hit the Subscribe button. :P After downloading the mod, do the same with the included .bikey file as bove.
For uninstallation, disable the mod in the launcher and delete the respective folder or Unsubscribe in case you're using Steam Workshop.
4. CREDITS
Mindas – Everything. Models, textures, config.. yes, he's that busy! Deathstruck/Slashbac­k/Salvatore_Le­e – Betatest, screenshots, permissions. And yes, I had that many nicknames. Vilas – AK12 model and MLOD. Toadie2k – AK animations. Sudden – Vehicle and armor textures. Avezd – Vehicle and armor textures. Chairborne – Vehicle and armor textures. TheEvanCat – Black Titan launcher. BadHabitz – Help with solving some of the retexturing problems concering the Titan launcher. Bohemia Interactive – The rest of the assets and ArmA3.
5. MODDER'S RE­SOURCE INFO
Retextures are okay. Feel free releasing those without asking (HiddenSelections are enabled).
Same goes for using the mod as a requirement for another.
Please ask our permission before releasing mods that alter or are based on the assets of this mod (models etc.)
6. CONTACT INFORMATION
You can usually contact us on the respective forums.
Mindas Deathstruck
7. LEGAL STUFF/ DISCLAIMER
By downloading and using this modification, you agree that the author of the modification cannot be held responsible for any damage to software or hardware directly or indirectly caused by the aforementioned modification. Use at your own risk, yaddy yadda.
8. VERSION HISTORY
Version 0.9 (27–10–15)