Katalog českých a slovenských Arma výtvorů
cup
Lukyz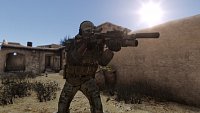 You're taking role of SBS squadleader and your objective is to infiltrate enemy compound, locate any enemy intel and get out before reinforcements arrive.
Weather is randomized with every mission start so if it isn't what you expected just reload the mission from beginning.
Every feedback no matter if its about scripting, translation, difficulty etc. is much appreciated! I need it for future missions and so I can edit this one to your liking.
Thanks and I hope you'll enjoy it.