Katalog českých a slovenských Arma výtvorů
Operation Muskatnuss
ffredyk [CZ]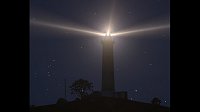 Your task is to accomplish various tasks on the Stratis island. You are inserted stealthy by boat.
The mission I've created a long time ago.. It is not very optimized for playing on the current build, it was created when the alpha started. I'll try to more optimize it for playing on the current version of the game. It is buggy in some events..
It should be working, but the extraction task is a little buggy and might not be complete-able sometimes.