Katalog českých a slovenských Arma výtvorů
Operation DRAGON FIRE
FriZY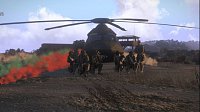 FF Studio presents MP coop mission for 34 players. Your task in this mission is crush down activity of local rebels on island Stratis. Mission can be customized by 11 parameters (AI skill,time,revive options,ammobox system…).
FEATURES:
Virtual Ammobox System (VAS)
reviving teammates
only pilot can fly
gradually assigned tasks
player markers on map
vehicle/heli respawn
protected base zone
respawn of helicopters on request
rearm and refuel script for helicopters
OPTIONAL MODS:
.. but NO MODs required!
THANKS:
Tonic aka TAW_Tonic for VAS
=BTC= Giallustio for revive script
Tophe of Östgöta Ops [OOPS] / updated by SPJESTER for vehicle respawn
Kronzky for String Functions Library
LAMA CZ-SK Team
BIS for this great game!
Have a fun and ENJOY IT!