Katalog českých a slovenských Arma výtvorů
D3VL3R
D3VL3R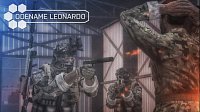 The new Arma 3 campaign Codename Leonardo is divided into three successive chapters – LEONARDO, REVENGE and STRENGTH. Each will come separately free on Steam Workshop. It is focused on the all hardcore players and also include czech voices or english texts. Missions are set in interesting areas that are completely remastered and lives their own lives. On the player await cutscenes, plot turns and diverse gameplay, in which are used the various military means. It all underlined great audiovisual processing.
Features:
Spellbinding story and storyline turnovers
Player as commander of OPFOR team
Four main characters
Movie cutscenes
Night and stealth
No addons needed
Rebuilt new interesting location on Altis
Living area (civilians, animals, weather)
Drone and Quad are used
Support of two languages: Czech/English
Original new czech voices
Original new soundtrack by Jan Chudy
Auto-Saving System
Updates
Please report bugs, feedback and suggestions. This is very useful for updates and next development
CZE: Nová kampa?, Codename Leonardo, pro počítačovou hru českých tvůrců Arma 3 je rozdělená do tří navazujících kapitol – LEONARDO, REVENGE a STRENGTH. Každá bude k dispozici zdarma na Steam Workshop. Zaměřuje se především na české hráče, kteří ocení český dabing při dialozích nebo titulky. Mise jsou zasazeny do zajímavých oblastí, které jsou kompletně předělané a žijí vlastním životem. Na hráče čekají filmové scény, dějové obraty a různorodá hratelnost, při které se chopí různých vojenských prostředků. To vše podtrhnuté skvělým audiovizuálním zpracováním.
Co očekávat:
Strhující příběh a dějové obraty
Hráč jako velitel týmu OPFOR
Filmové scény
Noční operace a plížení
Addony nejsou potřeba
Nová přestavěná lokace
Žijící okolí (civilisté, zvířata, počasí)
Využití drona a čtyřkolky a jiné techniky
Podpora dvou jazyků
Český dabing
Nový soundtrack od Jana Chudého
Automatické ukládání
Aktualizace
Prosím informujte o chybách, zkušenostech a návrzích.
Trailer: http://youtu.be/P_49VnSxk28 Soundtrack: http://goo.gl/hv9YWc Website: http://goo.gl/5Nn2sM Make Arma Not War: http://goo.gl/NyCZPh Twitter: @D3VL3R Google Plus: +Lukáš Vaculík