Katalog českých a slovenských Arma výtvorů
Dance Time
resistance-rat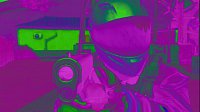 Kart Bandits took over Altis and stole all the Disco away from the island. Kill all of them and bring Disco back to life! However you have only 5 minutes too get them, until your happy pills run out and you will totally blow up and die in Disco way. Good luck bro.
Features:
Classic Crazy Shootout
3 Levels
Disco Colors
Karters
TODD TERJE Music
This is just mission for fun, don't take it seriously at all!
Music by: TODD TERJE